Listening Fun from Kids
---
 Baby Sign Language
---
 SHBoss Boys ~ Americas Got Talent 2011, Atlanta Auditions
5 Year old Mabou Loiseau Speaks 7 Languages Wow
---
---
Spinach/Spanish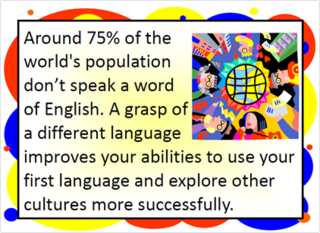 Learning for Children of all Ages 
---
Children's ABC's,  Reading, and Phonics for Listening Review       
---
Tell Me Why (with Lyrics) – By Declan Galbraith
---
Read the Fine Print! 

 
Fine Print – "Pony"
The kid and the red truck 'It's a piece of junk ' Commercial about fine print
Ally bank "Eggs"
"Don't Put All Your Eggs in One Basket!"
Ally – Ice Cream Commercial
Ally Bank Bike Commercial
Ally Bank "Toys"
---
---
---
---
Held annually on
21 February
worldwide to promote awareness of linguistic and cultural diversity and
multilingualism
.
---
---
International Mother Language Day (IMLD) was proclaimed by the General Conference of UNESCO in November 1999. It has been celebrated since 2000 to promote all the languages of the world.
---
The origin of language is the onset in prehistory of human spoken language.
It also represents the acquisition of the human ability to use language.  There are a number of hypotheses surrounding the origin of language, but each is speculative.
The evolution of spoken human language requires the development of the vocal tract used for speech production and the cognitive abilities required to produce linguistic utterances. The debate surrounds the time line, sequence and order of developments associated with the origin of language.
Being so early in human prehistory, the relevant developments have left no direct historical traces and no comparable processes can be observed today.
---